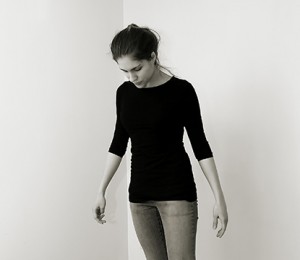 Artist Biography
Christine Fogl is a Montreal-based visual artist and illustrator.
Her work draws on bright colours and varied textures to express ideas about people and the relationships between them. Her preferred medium is acrylic on canvas, including techniques such as glazing and impasto.
Though mainly self-taught, Christine has attended the École des beaux-arts de Montréal ARTUS (EBAMA) and has taken art classes at Dawson College. Her work was part of a group exhibit at the Artothèque in Montreal (2012) and a solo exhibit in Montreal's  Fraser Hickson Library (1997). Her illustrations appeared in Canada, Con Passione (1997), and Working Together When Facing Chronic Pain (2010).
Christine's most recent body of work explores the theme of community – whether it's the interdependence between its members, the myth of the stand-alone individual or the allure and at times oppressiveness of group belonging. This work will be displayed in Montreal-based Galerie ESPACE between June 6 and June 11, 2013.
Biographie de l'artiste
Christine Fogl est une artiste visuelle et illustratrice montréalaise. Elle fait appel dans ses toiles à des couleurs vives et à différentes textures afin d'exprimer ses  réflexions sur les gens et les relations interpersonnelles. Son médium de prédilection est l'acrylique sur toile  auquel elle jumelle des techniques telles que le glacis et l'empâtement.
Bien que principalement autodidacte, Christine a étudié à l'École des beaux-arts de Montréal ARTUS (EBAMA) et a  suivi des cours d'arts au Collège Dawson de Montréal. Son travail a fait partie d'une exposition de groupe à l'Artothèque de Montréal (2012) et a fait l'objet d'une exposition solo à la bibliothèque Fraser Hickson (1996) à Montréal. Ses illustrations ont quant à elles été publiées dans les livres Canada, Con Passione (1997) et Faire équipe face à la douleur chronique (2010).
Les plus récentes toiles de Christine explorent le thème de la communauté – qu'il s'agisse de l'interdépendance entre ses membres,  du mythe de l'individu autonome ou de l'attrait ainsi que  du potentiel de suffocation lié à l'appartenance au groupe. Ses œuvres seront exposées à la Galerie ESPACE de Montréal du 6 juin au 11 juin 2013.